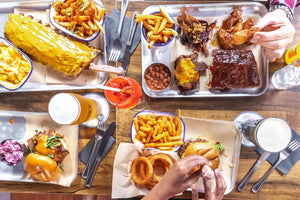 Cooked Low and Slow
Walkinstown
Temple Bar
Swords
Castle Market
Order Online
Our story so far...
After much research throughout the States, Smokin Bones had its first outing in Herbert Park in 2014. Barbecue has grown to be a way of life for the Smokin Bones team and is much more than smoky meats and juicy flavours. Barbecue is about friends gathering together and sharing good food in a casual and relaxed atmosphere. That's what we aim to achieve in our locations, from the head chef to your server on the floor. Thanks for your custom and we hope you enjoy your visit.
Smokin Bones is 100% Irish owned and apart from visiting any of our locations you can now enjoy our great smoked flavours at home. Order online for home delivery or visit our online shop and order our unique 'BBQ in a Box'. Barbecue at home could not be easier.
Michael, just want to say the box was a hit. Fab presentation to start, my 17 year old thought it was very cool. Great value, I added in a few more sales and we actually fed 4 on it. We could've done with extra ribs as they were Devine. I sent on the link to a few friends too. We will be back!

Lisa
Received delivery of my BBQ kit today and just wanted to say everything was delicious and enjoyed by all the family. Thank you so much. recommend
Hi Gerry, I meant to say thanks. Food was excellent and we had a great evening.

Alex
We ordered the barbecue in a box for delivery in Portmarnock and were delighted in everything!! The packaging was really professional and the directions were easily followed. For under €50.00 delivered, you can feed 4-5 people easily ! We just moved here from South Carolina and felt like we had a true BBQ experience! Will most definitely be enjoying this again and again! Thanks for all your hard work and attention to detail!
Delighted to get a delivery of the Smokin Bones meal kit all the way to Donabate! Great food for a family easy to cook and we got two meals for 4 from one box. Looking forward to barbecue weather in the future to enjoy the sauces!